Spell two wheels
If you want to feel the biking atmosphere of Polish routes, you are invited to travel with us. You are sure to find here everything that is important to a cyclist and a nature-lover. Beautiful places, exuberant vegetation, as well as raspberries and blueberries eaten strait off the bush during breaks.
Our excursions are always full of adventure. Your experiences and positive emotions will stay with you for a long time. Biking is a sport, biking is an adventure. Bikes are economical and ecological. We will let you discover what you have not experienced in your every day life. We will take you to Polish biking routes with a smile.
Do you love nature?
Do you feel alive when you are close to nature?
Do you dream about beautiful, clean rivers, enchanting forest routes and active vacation?
We will take you to such places and take care of everything – you just relax!
Befriend nature. Prepare for the excursion!
Where and when
Kozienice and Stromiec Forest are a very enchanting woods complex, a perfect place for active vacation, with numerous biking and foot routes, beautiful spots of nature, and is a still not well known place on a map of tourist excursions.
Kozienice Landscape Park was established in 1983 in order to protect and preserve the beauty of woodlands of the Kozienice Forest. It is situated about 100 km (ca. 62 mi) south of Warsaw, and all of its area is in Masovian Voivodeship.
One can find here many protected species of trees, bushes, plants, birds and animals such as lesser spotted eagles, black storks, cranes, European rollers, 17 species of bat, as well as European pond turtles and beavers. Within the borders of the Park are about 25 historic sites: churches, cemeteries, historic parks, palace complexes, numerous wayside shrines. The woods are famous for abundance of mushrooms, 297 species of which can be found here, as well as of wild strawberries and blueberries.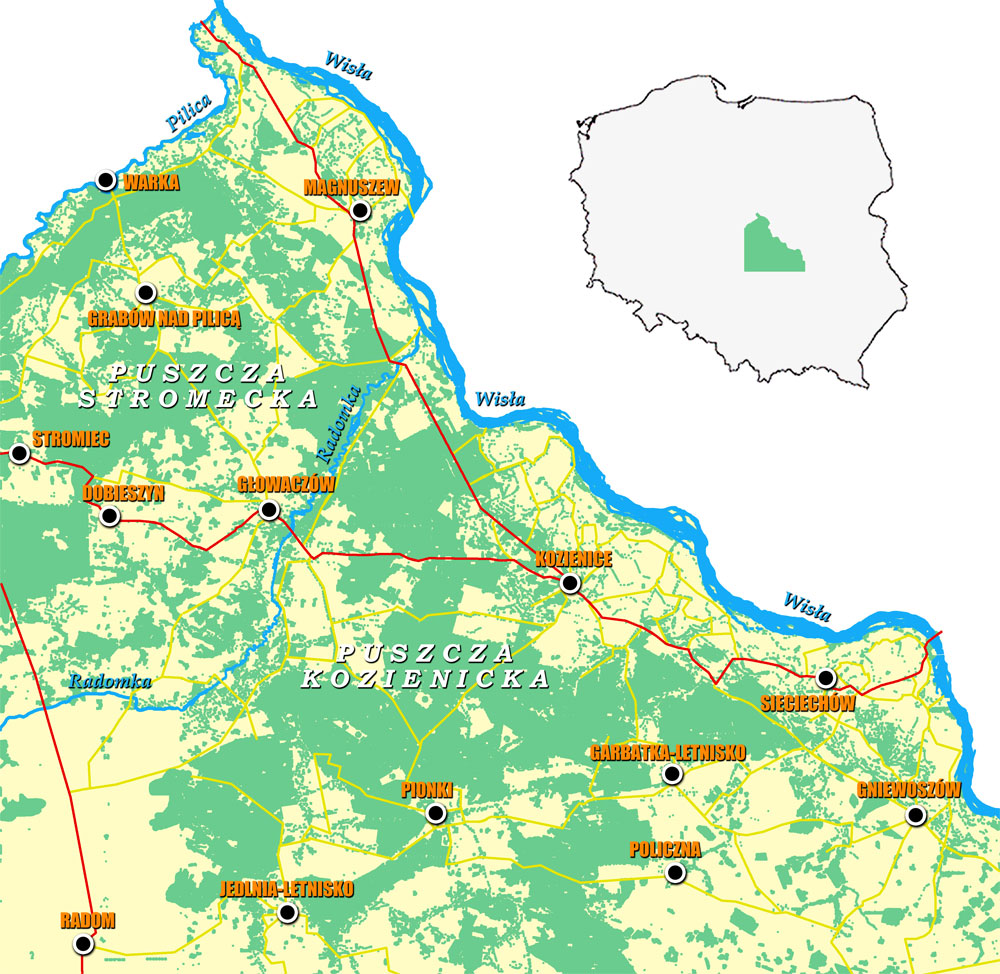 Information